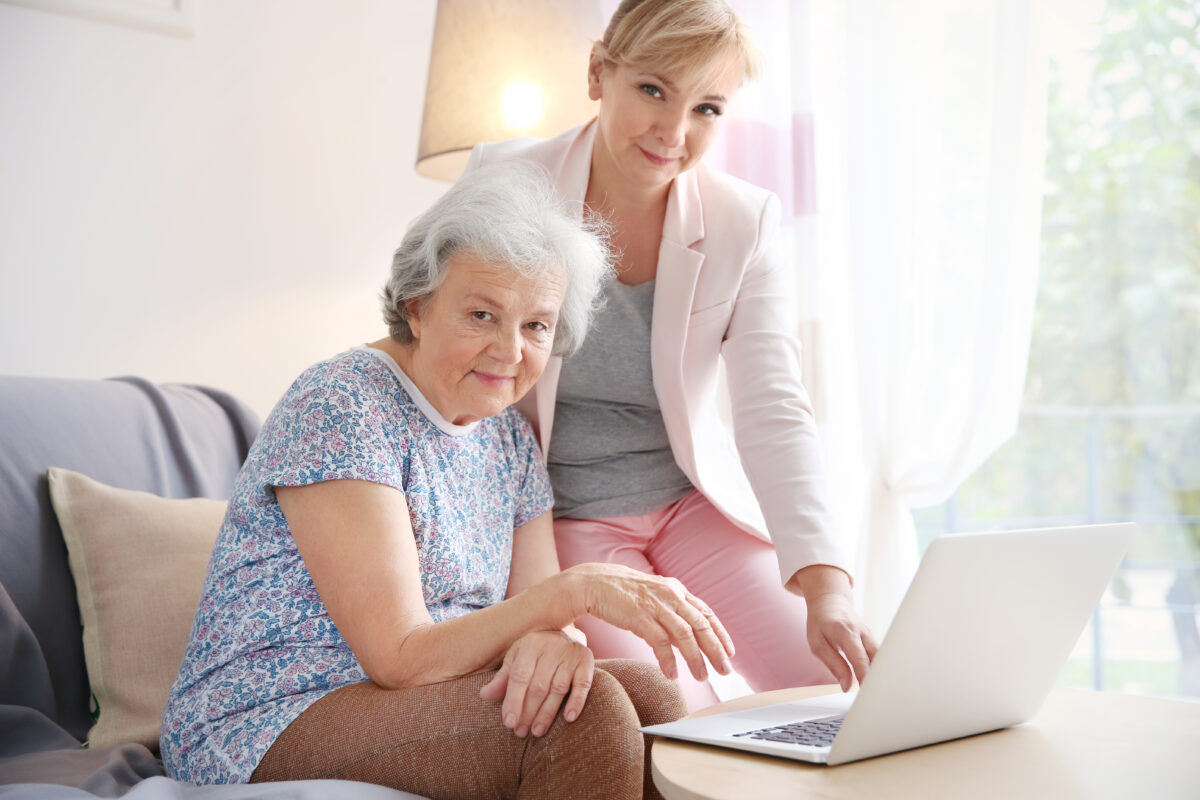 Seniors have experienced an unprecedented change in aging and health care due to the COVID-19 pandemic. The most positive impact is that technology was used as a lifeline for older adults that were confined to their own homes. The use of telehealth visits for medical and mental health has significantly increased, reducing hospital and doctor visits. Advances in technology like smartphones, tablets, laptops, cameras, and sensors have led to more usage than ever before, helping to keep seniors safe and connected in their own homes.
Research suggests that staying socially active and connected reduces cognitive decline, as well as minimizes depression and anxiety. Scientists note that intergenerational connections can help keep seniors engaged, and mentally sharp, as they grow older. The brain thrives on regular stimulation; therefore, studies have shown that learning new things help protect against memory loss later in life.
As people age, they also begin to face more challenges with mobility. Remaining in your home is ideal for older adults who want to remain independent and while there are benefits such as familiarity, there can still be risks associated with decreased mobility. Incorporating the use of artificial intelligence and other technologies into a seniors' home is a great way to help the senior stay safe and connected with loved ones without ever having to leave.
Having an active social life is also a helpful way to avoid mental health issues. If you live alone, it's even more important to stay in touch with friends or family. This isn't just a matter of enjoyment; it's crucial for your mental health. When we lose social support, our stress levels go up, and that can lead to illness, depression, dementia, etc.
Assistive devices can save money on healthcare costs while enabling older adults to remain at home where they want to be. That is why it's imperative that seniors continue to embrace new technology and recognize that often, it is easy to adapt to everyday use.
Senior's value their independence and being as active as they choose. Many have adopted the use of Fitbit or Apple to ensure they are getting enough exercise, and others have health apps that track their medical conditions. These individuals are being active participants to ensure they stay as healthy as possible. Technology gives people who want to age in place the tools they need to deliver the promise of living out those golden years in the comfort of one's own home. Envision your "own virtual wellness center" where you can coordinate your comprehensive health/wellness activities, appointments, and critical health documents, all in one place. This organizational hub can also provide direct contact with a telehealth professional in an emergency and connects you to family wherever they live. For seniors on the go, we have a mobile app that integrates with the wellness hub so you can update your information in real time and even provide your physicians, or other health professionals, with health information. Now, there's no need to bring multiple health documents, worry about making sure you get all your questions answered, or repeating yourself multiple times during your appointment. You have all the answers and information in the palm of your hand. Embracing technology keeps you in the seat and ensures you are always prepared and know what is ahead of you.
How Can EverHome Help?
Seniors everywhere are struggling to find a way to stay at home while also making sure they have constant access to caregiving services. At EverHome Care Advisors, our goal is to provide you with high quality Care Management Services, while also assisting you in learning how to implement technology to keep you healthy, organized, and connected to loved ones. All while being in the comfort of your own home! Our Aging Life Care Coordinators will be at your side to address your individual care needs, access care, and help you incorporate technology into your care so you can identify potential health issues early on and prevent crisis.
Nothing can replace in-home caregivers. As a result, seniors need new solutions to make aging-in-place safe, manageable, and affordable. During your initial in-home assessment, an experienced Life Care Coordinator will work with you to develop a plan of care that is based upon your individualized needs and advise you on a variety of technologies available including "touchless" devices, all delivered through our revolutionary new app, VivaLynx. This app allows caregivers and families to access key information about their loved one – all from the palm of their hand.
Our technology offers access to telemedicine providers that allow two-way video communication as well as optional sensors that detect abnormal activity patterns in the home and provide alerts to loved ones. The information that you can easily access includes:
Real-time health data and alerts
Coordinated services and appointments
Sensor technology to monitor activity
Integrated home security systems
Telemedicine through qualified physicians
No other healthcare or home agency offers such integrated solutions for home monitoring, which can be done from anywhere in the world.
Be a part of the change, place the future in the palm of your hand and contact us today. Our clients choose the EverHome Care Advisors team to guide them in making informed care decisions, finding the right care to meet their needs, and utilizing technology to keep seniors safe at home.
Whether you are planning for the future or facing immediate needs now, our experienced care coordinators know how to put a care plan in place and will guide you through the maze of care options. Rely on us to reduce stress and promote health, independence, safety, and quality of life. Contact us today to learn more about how EverHome Care Advisors can provide care support for you or your loved ones.